The Northumberland Wind Field Inc.
The Northumberland Wind Field Inc. (NWF) was incorporated as a CEDIF in September 2004. A CEDIF, or Community Economic Development Investment Fund, is a Nova Scotia government program created in 1999-2000 to encourage Nova Scotians to invest in a Nova Scotia business by offering significant non-refundable provincial tax credits to investors. Under the CEDIF Program NWF's six (6) successful share offerings between 2006 and 2017provided the opportunity for Nova Scotians to invest in sustainable wind energy that is clean, green and renewable. NWF's most recent offering of shares closed in August 2017.
Our Investments
The Northumberland Wind Field Inc. was the original sponsor for two projects under the 2010 Nova Scotia Community Feed In Tariff (ComFIT) (2010 - 2015) an initiative of the Renewable Electricity Plan. ComFIT is a Nova Scotia Department of Energy initiative which established an enhanced, fixed price over a 20 year period for electricity supplied by smaller, community-owned wind energy projects. Northumberland obtained COMFIT approvals for the 1.7 MW Avondale Community Wind Park, and for its 150kW Fitzpatrick Mtn Farm Project. The construction of the Avondale Community Wind Park was completed in 2016, while the Fitzpatrick Mtn Farm Project was completed in 2018. The COMFIT Program ended in 2015.
Northumberland Wind Field Inc has invested in other Nova Scotia renewable energy companies including Colchester Cumberland Wend Field Inc, Scotian Wind Field (SWFI), Scotian Wind Inc., Fundy Tidal Inc, and Renewable Energy Services Limited (RESL).
---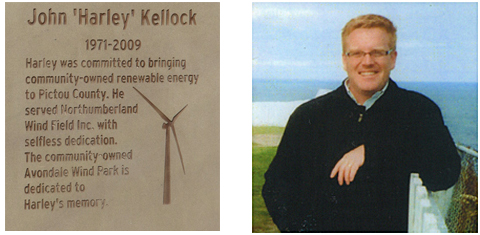 A Tribute to Harley Kellock
Read more about Harley's vision for Northumberland Wind Field.